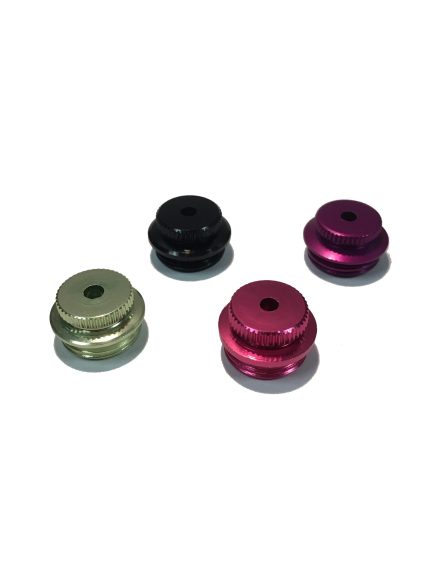 These Anodized Pipe Caps fit all standard pipe bowls.  Using an Anodized Pipe Cap preserves your smoking material (it will go out when not smoking) and cut down on the smoke coming out of your pipe.  And, if you are smoking outside, in the wind, your pipe will stay lit longer!  And because they are
anodized
, they last longer.  Anodizing increases resistance to corrosion and wear and tear. Choose from:
Black
Blue
Green
Grey
Pink
Purple
Red
Click
here
to order Anodized Pipe Stems Click
here
to order Anodized Metal Bowls
A Glass Bullet Snuffer is a stylish and effective way to store and carry your
snuff.
It is comprised of an
acrylic
top with glass vial bullet. Flip the Snuffer over with the arrow pointing down, load your snuff, then at the same time as turning your Snuffer over, turn the arrow pointing up for a hit of your favorite snuff. These come in two different sizes - same price.
Small - 2 1/8" x 5/8"
Large - 3" x 5/8"
You can also choose your glass vial color:
And then choose your Acrylic Top Color from:
Black
Orange
Pink
Purple
Red
Yellow