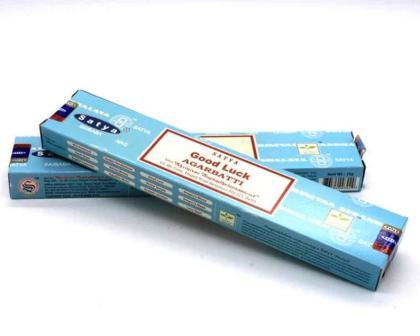 Satya Incense - Various Scents
What sets Satya incense apart and at the fore of incense manufacturing is the use of the masala/flora technique in production. This approach is both a return to the roots steeped in Indian spirituality and a recognition of quality. "Shrinivas Sugandhalaya (BNG) LLP" is a committed equal opportunity employer. They see themselves as a family. Their Organization and its parent's company have worked with a predominantly female employees based on three generations of female employees working under the same roof at this present time. Jobs at their establishment frequently pass hands from grandmothers to mothers to daughters. Their employees are skilled artisans, having gained expertise from years of hand-rolling and handcrafting of incense. These artisans are trained in the exact measure of "Flora" incense blend required for making of a perfect and uniform stick. The use of bamboo in their work ensures a minimal ecological footprint and is of support to tribal artisans. Their employees are provided with social overheads and a fair wage in addition to work gear, including masks and gloves. Owing to this uniqueness in their employees, their engagement with social justice with equity, 'gifts' rather than anything between the Company and Employees are passed on in the form of Household Utensils and Sarees every year. All meals are shared within the industry premises accrediting again to an informal and interpersonal relationship as a family. In this way, supporting their work in handcrafted incense lends a voice to craft, the earth, tribal welfare, gender parity and agency. All Scents are One 15 gram box.
CHOOSE FROM:
Arabian Jasmine - Hand rolled in India from pure extracts and fine scented oils, this is a beautiful amber and wildflower honey base scent with a seductive jasmine theme.

Mood/Inspiration: Laughter.
Description/Key Notes: Uplifting, Floral, Sprightly
Use: Jasmine flora incense supports self-confidence, is a mood enhancer and antidepressant. Jasmine also acts as an aphrodisiac and helps balance feminine energy/ yin within the body.

Dragon's Blood - The Dragon's Blood flora incense features a star ingredient from the family treasure trove.

Mood/Inspiration: The steadfast hold of the northern star.
Description/Key Notes:  Potent, Earthy, Harmonizing
Use:  The Dragon's Blood incense helps protect and strengthen your aura from external negativity and psychic attacks thus energizing your psychic and spiritual core.

English Lavender - Incense that is a fresh, sweet and charming fragrance.

Mood/Inspiration: Snuggling in for bedtime stories.
Description/Key Notes: Soothing, Sublime, Herbal
Use: The Lavender flora incense helps soothe, put to rest bedtime worries and lift insomnia.

Good Luck - Good Luck incense is a slightly sweet amber vanilla masala with a hint of wildflowers
White Sage -The protective aura of white sage provides safe sanctuary with this special blend.

 Mood/Inspiration: Sheltering under a tree during a passing shower.
Description/Key Notes: Woody, Sacred, Devotional
 Use: The White Sage flora incense helps release and cleanse energy from your space and provides protection.