Ashtray gifts for the smoker in your life, Mr. Bill's Pipe & Tobacco Company in Las Vegas has awesome ashtrays and other gifts available at great prices.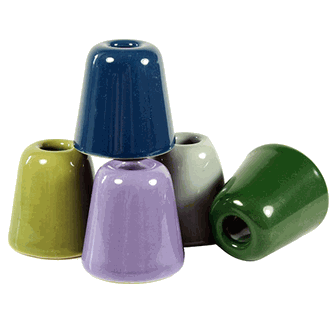 Just Puff it and Then Snuff it!!
Snuff It Ceramic smoking accessories extinguish cigarettes in seconds, reducing odors, costly waste, and soiled
ashtrays
!  When you can only take a puff or two of your cigarettes and you want to save the rest, snuff your cigarettes out in style with one of these Ceramic Snuffers.
Ceramic
is the material of choice as it's incredibly easy to clean and can withstand very high temperatures without breaking.  Various Colors.
How Do They Work?...
Drop lit cigarette into snuffer chamber and watch as it extinguishes the fire in seconds!!
Benefits...
Stops worry of endless burning...fire out in seconds. Reduces fire hazards associated with smoking...no more smoldering ashes when emptying ashtray into the trash. No grinding cigarette out... ashtrays stay cleaner. Eliminates foul orders... no soiled ashtrays or burning filters. Decreases excess second-hand smoke...smoke stops immediately when placed into snuffer.
Choose from:
Light Blue
Dark Green
Light Green
Mauve
Orange
Purple
Yellow
This Swivel Cigar Ashtray is made of wood. The top swings open to create a full size cigar ashtray with a metal ash collector. Magnets hold the top securely in place in the full open position. To clean, wipe with a dry cloth moistened with a little water.
Measures
4" (6-3/4" when opened) x 4" x 1-1/2"
Weighs 9.5 oz.
Choose from:
This Glass Spinning
Ashtray
is a best seller in our stores!  Remove your ash and butt with a simple push of the top to create the spinning motion and poof! - your
ash
etc. is gone to the bottom and out of sight and no smell! A Spinning Ashtray takes care of excess ash with one press of the button, launching ash deep into the enormous, covered basin of the beefy ashtray and aids in a relaxing smoke every time. Constructed with thick diamond pattern glass with a metal spin top. Push down spin action whirls away debris to the well.  Metal top is removable for easy cleaning. Glass ash well is dishwasher safe.  Heavy, weighs nearly 2 lbs. Measures 4.75″ round. Large 2″ deep well. Choose from:
The Beamer DePiper is an incredibly useful ashtray that helps you to clean your bowls and pipes. It features a long, sharp spike that can reach into almost any bowl or pipe and remove the ash inside, even making it easy to clean out pipes with tons of built-up gunk on them. Please be careful and keep away from children. The spoke is sharp and this product can be a fire hazard. Extinguish any burning or hot material right away.
Emptying your pipe into this ashtray will ensure it is ready for the next use. This is not meant to hold or catch hot embers. Works best for cleaning cold pipes
Other Details
 Ashtray with built-in pipe casher
Easily cleans out bowls and pipes
Simply turn over your pipe and scrape out the ash
High edges prevent ash from spilling elsewhere
Ensure all material is extinguished before leaving
Choose from:
Spinning Ashtray
Spinning Ashtray takes care of excess ash with one press of the button, launching ash deep into the enormous covered basin of the beefy
ashtray
,  Truly provides the best in service and aids in a relaxing smoke every time.
Premium Quality Stainless Steel, Mirror Finish
Triple Cigarette Rest

5" x 2 1/2'
Upgrade your grinding game with this Benji Ashtray
Grinder
Combo! This two-in-one tool is ready to handle your biggest shredding session - 4" of extra-large, heavy-duty teeth make quick work of all your herbs. Then, keep the smoke chill with the integrated
ashtray
so you won't have to worry about messy clean-up. Get it all done in one go with Benji! The grinder locks when you use it as an ashtray.  This unit also comes with a booklet of $100 print Benji papers and tips.
Heavy Duty
4" (100mm) x 3" Grinder
4 pieces
One Pack Benji Rolling Papers with 20 leaves per pack and 20 Tips included.
Gift box included.
Choose from:
Square Wooden Ashtray
This Square Wooden Ashtray is perfect for your cigars or cigarettes.  The brass insert can be removed for easy cleaning and is held in place be a small magnet.