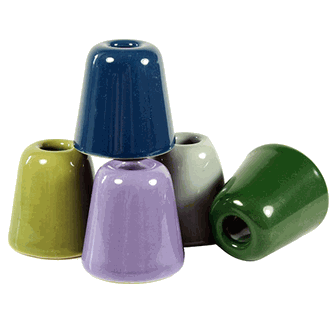 Just Puff it and Then Snuff it!!
Snuff It Ceramic smoking accessories extinguish cigarettes in seconds, reducing odors, costly waste, and soiled
ashtrays
!  When you can only take a puff or two of your cigarettes and you want to save the rest, snuff your cigarettes out in style with one of these Ceramic Snuffers.
Ceramic
is the material of choice as it's incredibly easy to clean and can withstand very high temperatures without breaking.  Various Colors.
How Do They Work?...
Drop lit cigarette into snuffer chamber and watch as it extinguishes the fire in seconds!!
Benefits...
Stops worry of endless burning...fire out in seconds. Reduces fire hazards associated with smoking...no more smoldering ashes when emptying ashtray into the trash. No grinding cigarette out... ashtrays stay cleaner. Eliminates foul orders... no soiled ashtrays or burning filters. Decreases excess second-hand smoke...smoke stops immediately when placed into snuffer.
Choose from:
Light Blue
Dark Green
Light Green
Mauve
Orange
Purple
Yellow