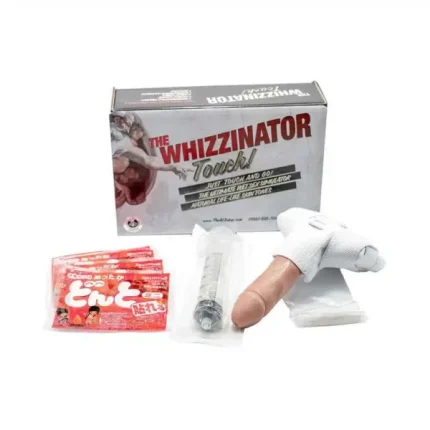 The Whizzinator Touch by ALS is a synthetic urine device that includes a prosthetic. The device is made up of an ultra-secure belt that goes around your waist and legs, a pouch that is connected to the belt, and the prosthetic (fake penis). The Whizzinator Touch is designed so you can wear it for extended periods of time. Each Whizzinator Touch includes a 100% cotton elastic Belt with two comfortable leg straps, a prosthetic in the color of your choice, a vinyl medical grade pouch, four organic heating pads, one 60ml syringe, one Golden Shower, and a set of instructions. The Whizzinator Touch is discreet and safe to use in any scenario. When you purchase The Whizzinator Touch, you are purchasing the 
most realistic fake penis
on the market! Available in four colors.
How does it work?
First, mix the 
Golden Shower
 with bottled water on a cup (please do not mix unless you plan to use it). Insert the mixture into the pouch with the help of the 60ml syringe. Place the belt around your waist and legs beneath your clothes. Place one organic heat pad when you are ready to heat it up. To release the liquid, make sure the clip is released and press the tip of the penis. The Whizzinator Touch features an ultra-quiet flow system, plus it can be operated with just one hand! Please clean your The Whizzinator Touch after each use. Instructions are also included, plus you can watch a step-by-step video guide on 
How to use your Whizzinator
. Use it for wet sex and pranks. All ALS products are safe, clean, and reliable. Over fifteen years on the market! Experience and high quality in one product.
What comes with my Whizzinator Touch?
1 Whizzinator Touch (4 colors available)
100% Cotton elastic belt with a pressure band
Refillable Vinyl Pouch with Non-Spill Refill Port
4 Heat Pads (Body temperature is: 98.6°F degrees)
One Golden Shower Synthetic Urine
One 60ml syringe
One set of instructions
ALS Synthetic Urine contains ingredients found in natural urine like Uric Acid and
Creatine
. It is balanced for specific gravity, Ph and has foam and scent! Great for mimicking disease and toxin-free urine for wet sex or pranks! You can have a dirty experience with a safe and clean, reliable product.
THIS PRODUCT IS NOT INTENDED FOR DRUG TESTS OR OTHER ILLEGAL USE.  PLEASE FOLLOW ALL APPLICABLE STATE AND FEDERAL LAWS WHEN USING THIS PRODUCT
. Available in: