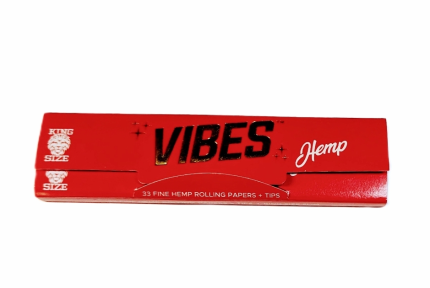 Vibes Hemp Papers are cultivated in France, then cut and kitted in the Dominican Republic to ensure each
paper
delivers consistent flavor with a slow burn.
These Papers include 33 Hemp King Size Slim Rolling Papers and Tips
.  Go on - Catch a Vibe! Vibes is a premium rolling papers collection started by influencer, rapper, and entrepreneur Berner. Established to preserve the purity and potency of your material, Vibes has created the ultimate smoking experience for connoisseurs. These fine rolling papers feature a 100%
hemp
fiber blend and real Arabic gum to make your smoking sessions flavorful and pristine.