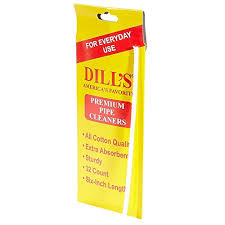 Dill's Pipe Cleaners
Dill's Pipe Cleaners are premium cleaning machines, just what you need to keep your pipe in tip top shape. These 6" cleaners are sturdy and super absorbent and make cleaning any pipe quick and easy.  They are the only pipe cleaner you need to keep your pipe burning smoothly. Dill's
Pipe Cleaners
comes in packs of 32 . A great
pipe accessory
to have on hand and available at affordable prices, Dill's is the top choice cleaner to have for your pipes.
All Cotton Quality
Extra Absorbent
Sturdy
32 Count
6  inch length
BRIGHAM CHURCHWARDEN PIPE CLEANERS
Got an extra-long pipe? What you need then are some extra-long pipe-cleaners. Well, that is if you care about keeping your pipe clean.  How long are these extra-long Brigham Churchwarden pipe cleaners?  About twice the length of a regular pipe-cleaner, perfect for anyone with a pipe two usual pipe-lengths long. Brigham Churchwarden Pipe Cleaners will keep your pipes in pristine shape. These pipe
cleaners
are highly functional and affordable to ensure you keep your pipe clean and smokable!  Brigham Churchwarden
Pipe
Cleaners are great for the Churchwarden pipe smoker. Take care of your pipes with Brigham Churchwarden Pipe Cleaners.
 Extra Absorbent Pipe Cleaners.
12" long
24 in a bundle.