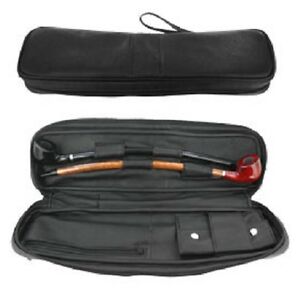 Our Churchwarden Combo Pouch is made of Black Leather and holds 2 Churchwarden Pipes.  It has a detachable tobacco pouch that measures 3 1/4" x 5 1/2" closed and 5 1/4" x 5 1/2" opened.  There is also has a zippered compartment for your pipe tools and lighters/matches.  Comes with a detachable loop handle. Size: 16 1/2" X 4 1/2" X 2" Long ago, 
churchwarden
 pipes were made of clay and were common in taverns, and sometimes a set of pipes would have been owned by the establishment and used by different clients like other service items (plates, tankards, etc.).
Churchwardens'
 pipes were reputedly named after churchwardens who used to put their pipes' long stem out of the church windows so they could smoke in church.